History of Heavenly Scent
Before it was Heavenly Scent Herb Farm, the property was home to little Steve Mathews, his sisters, mom, dad and a LOT of dairy cows! Life as a farmer taught Steve all about responsibility and a job well done, laying the foundation for what his life would become…
Fast forward a couple of decades and grown up Steve meets, falls in love with, and marries a spirited girl named Kathy. The dairy cows are sold off and Steve takes a job as UPS driver. Soon baby Jason arrives and Kathy, the physical education teacher decides to become Kathy the stay-at-home mom.
It sounded like a good idea, to give up her career and spend time taking care of their little bundle of joy, but Kathy was an antsy lady. Working with a caterer on the weekends was a way to feed her soul. The talented caterer grew her own herbs, which she used in the dishes she prepared. She taught Kathy all about how to grow and use these plants, and eventually gave Kathy five plants to grow herself. As she watched the lavender, lemon balm, chives, mint, and thyme prosper in her own garden, Kathy fell in love with the aromatic plants. For two years, she read everything she could about herbs. In the meantime, she and Steve created a seed room to grow even more herbs. Before long, they had so many plants they didn't know what to do with them and these plants were going to seed faster than they could be used! Kathy had always been interested in design and the excess aromatic herbs were the perfect materials for creating dried arrangements. After some time, it became clear that she needed flowers in her designs, so Steve and Kathy began planting flowers. They planted next to the house, in the fields, and all around the property.
For two more years, Kathy participated in craft shows selling her unique and heavenly smelling dried arrangements. People began to take notice, asking where else they could find her and sparking another "a-ha" moment. There was an old barn on the property. Why not use this as a place to create and sell her floral arrangements? Soon, the couple found themselves refurbishing the old barn. This was a difficult task, but with Steve's work ethic, Kathy's drive, and young Jason's enthusiasm for a new adventure, they quickly had the building whipped into shape. Now, with a home base established, Kathy started teaching others how to create interesting dried arrangements using the herbs and flowers she so loved. The business took off and before they knew it, the creative husband and wife team were shoppe owners. And the rest, as people often say, is history.
Over the years, Kathy and Steve have continued to expand their business. The original cold frames Steve built to house their plants have been replaced by three greenhouses. The quaint picket fences and English cottage gardens, which used to surround the barn, have evolved to feature shrubs, ornamental trees, perennials, and garden accents with a more European feel.
Kathy is inspired by constantly looking towards what's next. She loves incorporating the unexpected into her shoppe's vignettes and designs. A love of little surprises also spills over into the gardens, where visitors can find a bird made of old farm implements, funky mushrooms Steve crafted from spray foam, and even a giant bird's nest made of rebar. This spirit of evolution keeps their business always looking current, prompting customers to frequently comment on how the place looks so different whenever they come in.
A bit of the unexpected – this definitely sums up the philosophy and life journey taken by Kathy and Steve Mathews. As Kathy always says when talking about their business, "Be careful what you wish for!"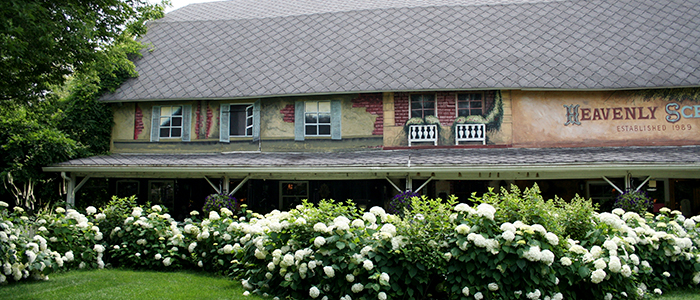 Heavenly Scent Herb Farm is a unique destination. Your delightful visit begins in our shoppe, which is housed in a barn built in 1910 and features a façade painted to look like three European store fronts. Step inside to experience a variety of home décor, dried florals and arrangements, bulk herbs, garden accents, candles, body care products, and so much more! Breath in the heavenly aromas while wandering from room to room. Marvel at the original floor timbers still in place in the faerie room. Then, head outside to explore the grounds.
Begin your garden journey by entering through our iron gates. The refreshing sounds of falling water accompany you as you stroll through our gazebo where romantic weddings are held in the summertime. Continue into our faerie garden to be enchanted by miniature folk and their treasures. Around the next bend and under the pergolas, you'll encounter ginormous hanging baskets, annuals, and a large fountain where fish play among the water lilies. As you continue strolling through the plants, your next stop is the teleidoscope garden where you will discover the excitement of blending kaleidoscope mechanics with the swirling colors of a flower pot. The path continues to meander through tall grasses and arborvitaes, making you feel as if you are exploring a secret garden. All of the garden areas will delight your senses with aromatic plants, beautiful colors, textures, and sculptures.
A visit to the greenhouse is a must. You will find more ginormous hanging baskets, wee faerie plants, herbs, annuals, scented geraniums, topiaries, and so many other interesting plants. Lovely garden accents such as trellises, benches, cement statues, and unusual containers will also charm you. Your visit to Heavenly Scent Herb Farm is a unique way to grow your own memories!